Rider
Join Date: Sep 2009
Location: Tampa, FL
Posts: 142
front mudguard removal?
---
hey guys, I'm repainting my bike. It's a k8 gixxer 600. I just finished taking ALL my plastics out (the bike looks so skinny and naked lol) but i cant get the damn front mudguard off. I took the bolts off but it won't squeeze through the forks. Do I have to remove the front wheel to get them out?
In case you don't know what im talking about it's this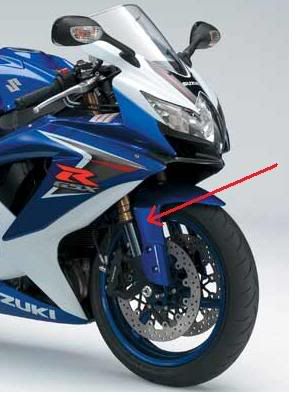 Any help guys? Thanks
i have used soft damp shammies around the forks and got mine off, but ya, the best way is to remove the front wheel assembly to avoid cracking or scratching the piss out of it...imo
you need to remove the front wheel. It's okay to call it a fender and not a mud guard since we don't motocross the GSXR. Don't over torque the axel bolt or you'll get some stiction in the forks
---
GSXR.com Super Mod
"Motorcycle racing is a dangerous hobby for those who've never done it." - Jean Alesi

When I stand before God at the end of my life, I would hope that I would not have a single bit of talent left, and could say, "I used everything you gave me."
CMRA #599
Novice
Join Date: May 2009
Posts: 39
All I did was throw some tape on the fender to prevent scratches and flexed it inward and used a little force. You should take off the brake line clip though to make it easier.
Rider
Join Date: Oct 2008
Posts: 293
i scratched my fender while trying to remove it....hell i even had the front wheel off. i tried sliding it down but couldnt get passed the forks. tried goin up,twisting sideways,ect...
Rider
Join Date: Sep 2009
Location: Tampa, FL
Posts: 142
oh wow sounds like a bit of a mission....I'm re-painting my bike so I don't care if I scratch it and when I put it back on the front wheel will be off my then and ill use some damp towels as mentioned. Thanks a ton guys.