March 2017 Bike of the Month Winner: G8SXR
---
Congrats G8SXR you officially beat lil' red to clinch the March victory. PM me your address for your autographed, stained napkin.
G8SXR
*This is the only one I have ever seen to paint the silver pieces under seat and mid fairing, black. Also, powder coating everything silver to black. This is a true "Triple Black" K9 1000*
2009 GSXR1000
-DynoJet PCV
-DynoJet Autotune
-Two Brothers Full Exh.
-Vortex Framesliders (cut) & spools
-Carrozzeria wheels
-K&N air filter
-Aftermarket Barends (can't remember name)
-Aftermarket tank cap (can't remember name)
-Progrip soft grips (soon gone... motion pro rev2 kit)
-Zero gravity windscreen
-Spiegler Brake lines (black-black) (front, 2 alt.)
-fender elim. w/led light strip (2in.) (not sure what brand)
-Tires soon to be Pirelli Supercorsa V2's
I'm sure I missed something... I intend on doing a few more things for 2017 due to upcoming track days.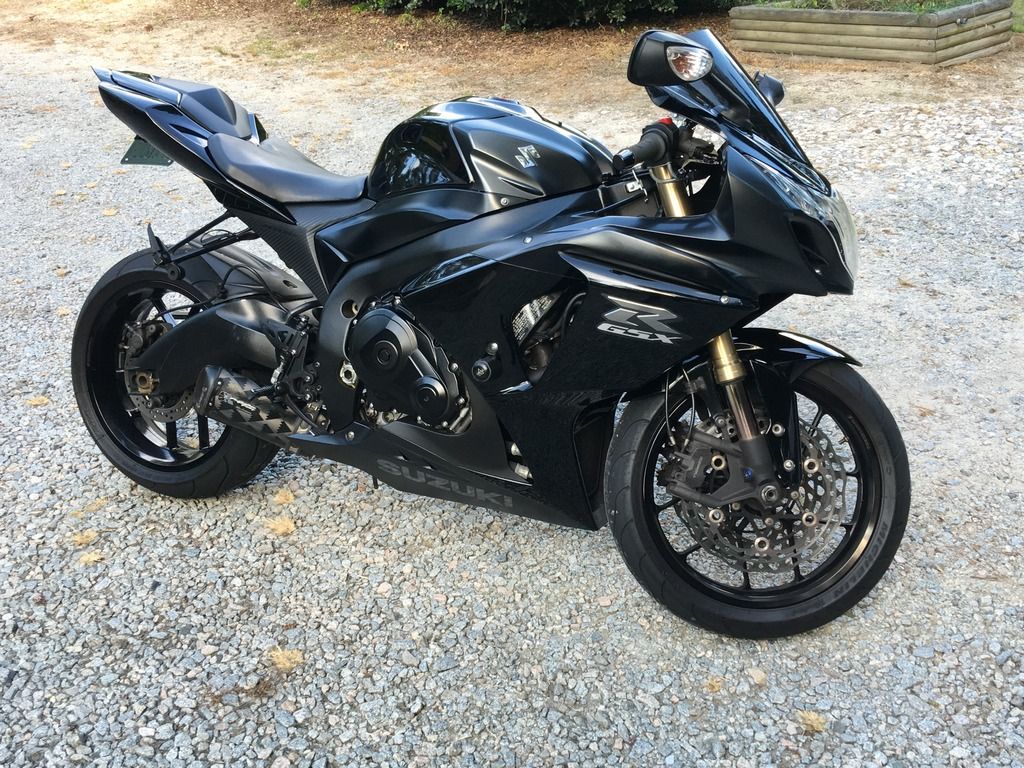 ---
I'm against picketing, but I don't know how to show it. -Mitch Hedberg-
CCS/ASRA Expert #77
Join Date: Sep 2010
Location: Raleigh NC
Posts: 10,458
Nice ride, congrats!

Sent from my SAMSUNG-SM-N900A using Tapatalk
---
.
.
.
.
.
.
"Crazy people don't know they're crazy, but I know I am, so I must not be crazy"
def a sexy ride, congrats!!!

hope we can link up this season!
---
Got a mind that a map wouldn't find
K6 GsxR 1K
A smile with every mile
Quote:
Originally Posted by
chicken_strippin
View Post
Fizzy drink and breaded ham? More like fuzzy pink or bearded clam
I'm proud to say I'm a cage free chicken.
Pro Racer
Join Date: Jul 2008
Location: Indiana
Posts: 1,665
Those wheels! Always liked how those looked...Congrats
---
SRAD600: "...but when I crack that throttle and my smile goes ear to ear and my pecker perks up I cant think of what better motivation to take care of her."
Rider
Join Date: Jun 2016
Location: A Texan, living in Franklin, WI
Posts: 359
---
K5 Liter Bike-
essentially totalled 5/7/17-

But now, there is another- the force is strong in this one!

BOTM- December 2016
congrats
---
K5 600
DB windscreen
grips
shorties
bar ends/spools/sliders
undertail
polished frame
HIDs
LED kit
chopped D&D
K&N air filter
TRE
PC3
520 -1/+2
s/s lines
diablos
rim tape!
Squid
Join Date: Jul 2016
Location: Pennsylvania
Posts: 24
Better looking that Batmans!
Posting Rules

You may not post new threads

You may post replies

You may not post attachments

You may not edit your posts

---

HTML code is Off

---