I bought a used 2008 Carry-On 4x7 open trailer. Great condition, and for a great price. Since i didnt know if anyone has maintained the trailer since its birth in 2008, i figured id start taking a look around. I lubed up the front support leg in front. I lubed the coupler. checked the lights and lubed the lift gate.
THEN I DUG INTO THE WHEEL BEARINGS, AND FOUND THE FILTH.
Im going to do a quick instruction on a how-to for checking, changing, cleaning & repacking your trailer bearings.
PUT ON RUBBER GLOVES! THIS WILL BE NASTY & MESSY!!!
1. start by chocking the wheels on your trailer, and lifting up one wheel at a time your going to work on. i chose right under the suspension and lifted up the trailer till the wheel is spinning freely. Its only 350lbs, so it stayed put. if you have a much heaver trailer you might want to lift the from the frame. UNBOLT YOUR WHEEL BY REMOVING THE LUG-NUTS.
2. YOU WILL HAVE JUST THE HUB LEFT. take a screw driver and pry off the silver dust cap. you might need a large pliers or something if its been in there for years.
3. next once your remove your dust cap, you will see this. take a small pair of pliers and straighten the legs out on the cotter pin and pull it out.
4. once you remove the cotter pin, the castle nut should unscrew easily. these should not be tight. (to tight and you cause damage to the bearings)
5. now you can remove your HUB from the spindle. it will slide off, and the OUTER most bearing might pop out easily. totally normal, dont worry.
6. inspect your bearings & the grease thats in there now. is it milky? murky? watery? rusty/browish?/ did you find metal junks loose? clean the outer bearing and parts and inspect for rust. SET IT ASIDE CLEARLY REMEMBERING THAT THIS IS THE OUTER MOST. (some trailer use 2 different sizes for outer/inner)
HERE IS WHAT I FOUND: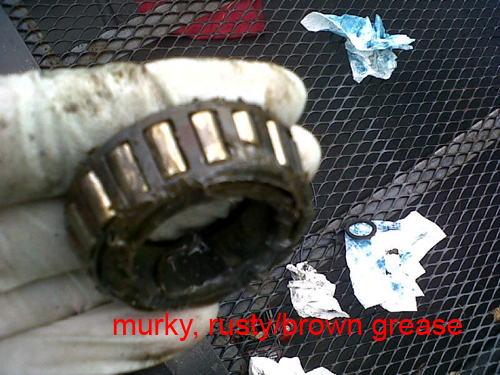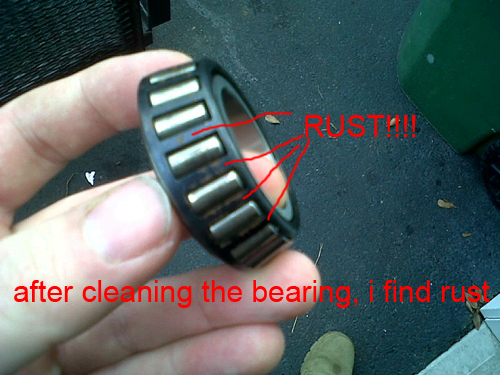 7. AFTER YOU REMOVE THE OUTER BEARING, you will need to remove the inner bearings that sit closest to the center of the trailer. you can take a piece of wood, or something similar and GENTLY tap out the bearing and the seal thats holding it in. You will almost positively damage the inner seal. its a given, best to pre-order your new bearings & seals.
8. inspect your bearings & the grease thats in there now. is it milky? murky? watery? rusty/browish?/ did you find metal junks loose? clean the inner bearing and parts and inspect for rust. inspect the seal. is the rubber torn? is it worn down? is it rusty? is it bent?AGAIN, TAKE THE TIME TO INSPECT, CLEAN, AND PLACE ASIDE REMEMBERING WHICH IS WHICH.
9. IF EVERYTHING IS FINE - GO AHEAD AND CLEAN ALL YOUR PARTS AGAIN MAKING SURE EVERYTHING IS IN GOOD CONDITION. CLEAN EVERYTHING INCLUDING THE SPINDLE. AFTER YOU CLEAN THE BEARING, INSPECT FOR GROVES, DINGS, OR MISSING ROLLERS. ROLLS THE BEARING AND LISTEN...is it making a rusty roller skate wheel noise? does it sound like it has sand inside?
SIDE NOTE: bearings are cheap. go to etrailer.com and order a new set for both side. thats what i did. etrailer.com BEARING KIT ORDERING CHART this chart makes things a lot easier.
on the bearing itself will be the words CHINA written on it, and then a long part number (example)L44649(thats mine). "L44649" is going to be your bearing part number. that's what you find on that chart, and order. its like $10/wheel. cheap enough to just replace versus risk loosing a wheel.
10. If you feel that your parts ok, or if you got new ones: you will need a bucket of disk drum/wheel bearing grease. any pep-boys or auto parts store has it for $5 or less.
11. take a glob and rub your spindle liberally. rub the inside of the hub, and rub your bearings. rub everything in the hub with grease. dont be cheap.
take a nice glob into your palm and force the grease INTO the bearing crevasses.
(thats called packing your bearing)
DO THIS TO BOTH BEARINGS.
GET AS MUCH GOOPS INTO IT SO TO BLOCK WATER OUT.
once you feel you have shoved as much grease INTO the rear bearing reinstall THE REAR BEARING into the rear race on your hub. add more grease, and seal with the rear seal all onto the hub.
12. now install the hub onto the spindle. install your outer bearing into the race, add more grease and washer(if you have one) shoving more grease into the area.
13. handle tighten the castle nut till its snug. back out one millimeter at a time till the hole is aligned for the NEW cotter pin.
14. pack some more grease, and seal with your dust cap
(i like to fill the dust cap with about 50% full of grease to have a nice water tight seal so water has no where to go if it does enter.
PHOTO CREDITS(along with my photo's):
Replacing the Bearing, Races and Seals on a Trailer Hub | etrailer.com
Repacking Trailer Wheel Bearings | The Family Handyman