Discussion Starter
·
#1
·
Ok kiddies, todays lesson, fun with LED's. After a lot of hemming and hawing. I decided to tackle this project myself and not send it out for someone else to do. My bike looked weird being blue/black with 6500k HID's and a blue Acumen gear indicator but the amber gauge backlighting.
This is a very straightforward project but...thats a big BUT is not for the squeamish or impatient. It is a very delicate process that requires a very good knowledge of soldering and basic knowledge of electronics. I recommend that you don nit do this if you have nay misgivings cause you do run the risk of ruining your cluster.
Now, here are some tools that I used to get this done.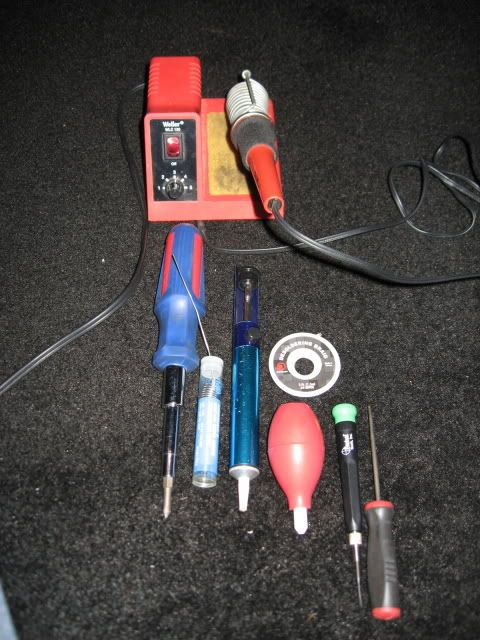 The soldering station is pretty essential as you can burn the LED's up or damage other components on the board with too much heat. Obviously a desoldering station is preferred but they are expensive if you aren't using them on a regular basis.
I have two solder suckers but prefer the blue one as it seems to do a better job an the first attempt. I also got the desoldering braid cause with the tight multiple joints on the LCD display it helps to make short work as it wicks the solder from the pins.
Solder is a must...duh. A good quality solder that is as thin as you can get helps to make the resolder process much neater. A rosin core solder isn't essential since you can get the rosin separately but it eliminates an entire step.
I also have a small pick and screwdriver for helping to make sure the pins on the LCD are loose. A standard no.1 and 2 phillips head are also needed.
I used tweezers to help install and remove the LEDs. You can use any similar type tool.
This was performed on my 05 750. So this will apply to a 04/05 600/750. Other applications may be similar but double check your LED requirements with your bike as they may be different.
Now lets get started.
First remove the cluster from the bike...this may seem obvious to most but I like to be thorough.
Place it face down on a soft rag and remove all the black screws.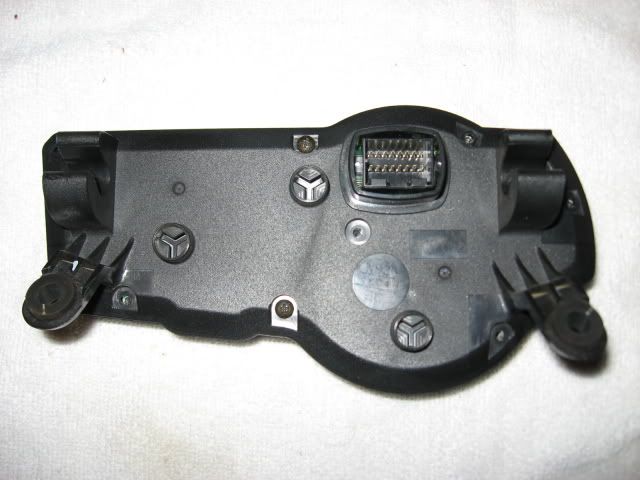 Now lift the back off and remove the single silver screw near the black connector block. There are three others that mount the LCD but you can leave them for now.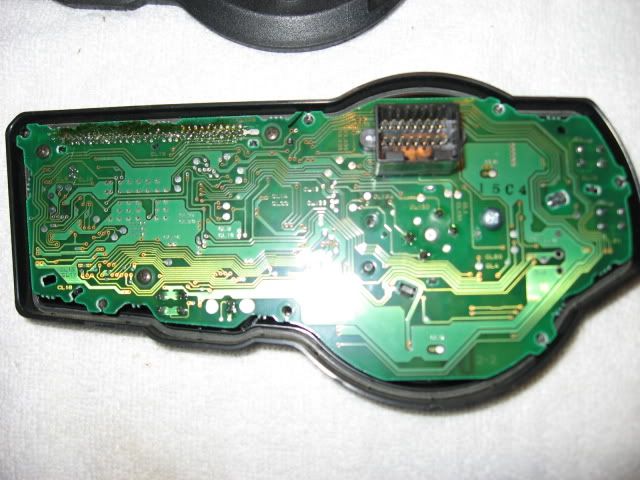 Now a lot of people like to take spoons and pull the needle off in order to get the tach off. I am not a fan of that method for a lot of reasons.
Instead, keeping the cluster face down. You will see four solder joints and for metal tabs that mount the motor to the board. Straighten these tabs, I used a flat blade screwdriver. Be careful not to stab yourself or scratch the board and damage the tracers (this will lead to more work if you do). after you straighten the tabs, desolder the four motor pins. You will see a clear plastic tab near the bottom of the board. Press that towards the opening and remove the entire tach. WARNING: Do NOT force the tach off the board. If it feels resistant, make sure your tabs are straightened enough and that you have properly removed all the solder. It may be necessary to heat the pins as you pull on the gauge. Be patient it will come loose.